The Journey Garden
2012 MERIT AWARD WINNER
Association of Professional Landscape Designers
Annual International Design Competition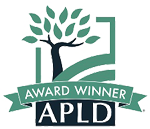 This large garden on a steep site incorporates both formal and naturalistic garden elements which are seamlessly woven together by a series of terraces, winding paths and lawns, stone walls and stairs.
Originally overlooking a steep, bowl-shaped lawn area, this understatedly elegant Cape Cod style country home and its front patio now overlook a traditional formal English garden which invites exploration. A contemporary abstract sculpture commissioned just for this garden is a dramatic counterpoint to the symmetrical beds exuberantly planted in cottage garden style. A large, existing boulder at the head of the formal garden is directly in line with the front door of the home, providing the axis on which the centerline of the formal garden was laid.
The journey just begins here, as woodland paths beckon from behind the boulder, and bright sunlight gives way to high shade of mature oaks and conifers, where woodland perennials, wildflowers and ferns flourish under native shrubs and along mossy paths.
From the cross axis of the formal garden, wide sweeping grass steps lead down to the pond, designed with a pebbled beach at one end and a bog garden at the other. Water splashes along a water course, pooling in front of the summer house patio which is designed for sitting and dangling ones' feet in the sparkling water. Water lilies and hyacinths provide color on the water's surface and protection for the resident koi fish.
The journey continues around the pond perimeter - there's a shaded sitting area opposite the summerhouse - then up, down, and across slopes, through shaded woods, sunny dales and grassy meadows. The garden is easily traversed as a result of precisely locating walls and stairs, and by contouring gentle slopes.
Hardscaping was designed throughout with the health and majesty of existing mature trees always in mind, and none were compromised for the sake of design. In spite of all the site work involved in creating this garden, all trees remain at their original grades with their mossy tree collars still intact.
Spiral stone steps, garden seats build into stone walls, a stone gate that moves with the push of a finger, an ancient wisteria, and a quiet fountain garden further sweeten this garden journey.
Primary garden elements of water, stone, and luxuriant plantings - all designed in keeping with their natural surroundings - are given almost equal emphasis and artfully combine to create a serene garden retreat of timeless proportion.
Project Associates:
Arborist: Ted Brown, ArborTech, Inc., www.arbortechtreeandl.com

Architect & Sculptor: Sara Jane Porter, www.sarajaneporterarchitect.com

Building Contractor: Peter Fellman, Fellman Brothers Building Contractors

Landscape Masonry: Christopher Smith Masonry, www.christophersmithmasonry.com

Landscape Installation & Maintenance Contractor: Pine Tree Nursery & Landscaping, Inc., www.pinetreenursery.com

Waterscape Contractor: Ray Durkee, Hinoki Pond Works, hinokipondworks@gmail.com